EARLSMEAD NURSERY - PLACES NOW AVAILABLE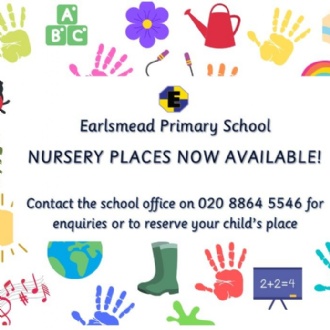 To be eligible for a place at Earlsmead Nursery, your child must be born between 1st September 2019 and 31st August 2020.

To apply for a place, please complete the application form found below and either post it to Earlsmead School (address below) or email your application with proof to the office@earlsmead.harrow.sch.uk. When you submit the application form you must provide the following documents:
1. Proof of your child's date of birth – Birth Certificate or Passport.
2. Proof of your address – either your current council tax bill listing your full name, formal tenancy agreement, letter from your Housing Association or letter from solicitor confirming date of completion.
Earlsmead Primary School, Arundel Drive, South Harrow, HA2 8PW