School Uniform
All children are expected to wear the correct school uniform every day. Pupils can win Dojo points for displaying the correct uniform.
The school's uniform is sold at Angels. The uniform consists of:
Nursery:

Royal blue tracksuit bottoms.
Gold polo shirts with school logo.
Royal blue shorts in the summer.
Blue, gold, white or grey head scarves
Comfortable flat shoes or trainers.

Reception to Year 6:

Black trousers, tartan skirts.
White cotton shirts.
Royal blue jumpers with school logo.
Blue and White or Yellow and White summer dress
Blue, yellow or white head scarf.
Black flat shoes.
Plain black or white socks or tights.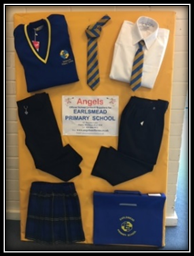 All shoes must be plain black. Sandals, mules and boots (full length or ankle) are not allowed. Hair decorations should be small and either black, gold or blue.
Children also need a book bag and a drawstring P.E. bag clearly labelled with their name and class. No other bags should be brought into school.
P.E KITS
Only the school's PE kits are allowed in school. PE kits can be worn to school on the days that your
child has PE.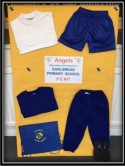 Royal blue shorts.
White t-shirt.
Royal blue track-suit for colder weather.
Black trainers.
PE kits must be taken home at the end of the week to be washed.
JEWELLERY
If your child has pierced ears, they may wear stud earrings to school. These need to be removed for PE lessons.
Apart from earrings, pupils may not wear jewellery in school. Watches are permitted but should be analogue (rather than digital).
Pupils are also not allowed to wear any make up or nail varnish, including nail extensions, in school.