Year 5
Pine: Miss Akrill
Sycamore: Mr ShaH
We're here to help you keep learning during the school closures. earlsmeadyear5@gmail.com
Please open the message board below. It will be updated several times each week.
Use the tabs on the right (bottom if you're reading this on a phone) for:
A suggested home learning timetable (In "All About: Learning From Home")
Activities for each area of learning, which will be updated regularly
Remember to email your lovely work to earlsmeadyear5@gmail.com, and email the same address to ask for help on anything you don't understand.
Message board during School Closures
Friday 22.5.20
It feels very strange to say that today is the last day before half term, when we haven't seen each other for the whole half term.
We won't be posting more work over the holiday, though we will answer emails if you have any questions, and you can continue to use the learning apps (bug club, my maths, purple mash) and practise your writing, spellings and times tables!
Maths: https://www.thenational.academy/year-5/maths/describe-position-after-translation-year-5-wk1-5
French: An update on Duolingo as the last instructions weren't clear. If you're using a laptop or computer, use this link https://www.duolingo.com/o/vmekbe. If you're using a tablet or phone, go to the French activities page, download the PDF at the bottom and follow the instructions ther.
Thursday 21.5.20
Welcome to Thinking of others Thursday
PSHE: What can you do today to show someone you care about that you're thinking of them? You could give them a phone call, write them a letter, or do something to help them. Helping and connecting with others makes us feel better ourselves.
Maths: Another lesson on translation today https://www.thenational.academy/year-5/maths/describe-position-after-translation-year-5-wk1-4
Wednesday 20.5.20
Good morning wonderful Year 5s! It's Workout Wednesday today and #thisisPE youtube channel have some fantastic home PE ideas, in case you want a change from Joe Wicks! https://www.youtube.com/results?search_query=%23ThisIsPE
Maths: https://www.thenational.academy/year-5/maths/describing-positions-and-coordinates-year-5-wk1-3
English: Try out Bitesize's English lesson on inference - the I in VIPERS (challenge: do you remember what the other letters stand for?)
Tuesday 19.5.20
Maths: https://www.thenational.academy/year-5/maths/describing-translations-year-5-wk1-2 It's a new topic that we would have covered this term so do take your time on the lesson.
Languages: Have you ever used Duolingo? It's an app that teaches languages through little games. You could use it for French, or you could try a new language! Miss Akrill has been trying to improve her French - J'aime apprendre!
Monday 18.5.20
Good morning Year 5! We hope everyone is safe and happy. Remember that you can email us if you need anything.
Maths: Our next series of lessons are from Oak Academy and are about position and translation. The first lesson revises coordinates and introduces translation. Squared paper is useful for this topic. If you don't have squared paper at home, there are exercise books in the entrance to school. You are allowed to come and take them home if you need them. https://www.thenational.academy/year-5/maths/an-introduction-to-translation-year-5-wk1-1#slide-3
Science: We have added the knowledge mat for our Space topic at the bottom of this page, and have added the last two videos about space on Bug Club. Check them both out!
English: If aliens exist, what might they look like? Draw or make a model of an alien - you could use any materials you have available. Then write a description of the alien from the point of view of a person who is seeing it for the first time. Remember to include their feelings in reaction to seeing this alien, and consider senses other than sight - does the alien smell of anything?
Friday 15.5.20
English: English with Holly is a fabulous Youtube Channel. She does live lessons that you can join, and they then stay online so that you can watch any of them. This one is all about homophones - something that confuses so many people, even adults! https://www.youtube.com/watch?v=UCmuHXWOS_Q If you'd prefer to do something offline, there are new worksheets about homophones in the SPAG Activities.
Art: Look what a fabulous job Asmika has done with texture from the first Oak National Academy art lesson!
Have a go at the next lesson here: https://www.thenational.academy/year-5/foundation/optical-illusions-and-using-shading-to-show-form-year-5-wk3-5
Or if you missed the last lesson: https://www.thenational.academy/year-5/foundation/how-can-we-use-visual-texture-to-add-interest-to-our-artwork-year-5-wk2-5
Thursday 14.5.20
Music: How are your beatboxing skills? The Oak National Academy wants them to improve! (I know it says Year 4, but it's a bit more fun than their Year 5 music lesson!) https://www.thenational.academy/year-4/foundation/to-beatbox-using-rhythmic-patterns-year-4-wk2-5
PSHE: We've added a new PSHE tab with links to SCARF resources, as well as some ideas for indoor and outdoor challenges. There is a temptation to spend lots of time online at the moment. It's important to switch off sometimes, as well as to connect with the people you live with.
Maths: Problem solving today https://www.bbc.co.uk/bitesize/articles/zfcnscw BBC and white rose publish problem solving challenges every Friday. These challenges all involve maths you know, but need you to really think about it.
Wednesday 13.5.20
Apologies for the error in the maths for the last two days. It's week 3 lesson 1 and 2 we recommend, as these are all about multiplication. Thank you to the parent who flagged this to us :)
For anyone looking for additional work, we do recommend the other White Rose lessons, as well as those created by Oak National Academy. These are all curriculum linked. We have chosen particular lessons to highlight as they are topics that we would have covered this term, but the other topics would be great revision or different learning - for example, White Rose have lessons on perimeter in Summer Week 4, which you all did really well on last term, so could use that to revise. Oak Academy have lessons on coordinates and translations (which we've not covered yet in Year 5) as well as English lessons on persuasive letters (which would build your skills - being persuasive is a life skill, not just an English skill!).
We don't want to overwhelm you with too many things to do, but please do get in touch (parents or children) if there is anything we can do to help. We hope to be back in school, as soon as we can safely.
Tuesday 12.5.20
Maths: Try Week 3 lesson 2 from White Rose - https://whiterosemaths.com/homelearning/year-5/ and complete the mymaths lessons about multiplication, to really secure your understanding. This is a key skill so keep practising until you've got it. If you need more problems, set yourself some and get an adult to check the answers using a calculator.
English: Here are some space-themed settings. Choose one and write a setting description. Remember to include at least one character - maybe it could be through the eyes of an astronaut, or of someone who has just woken up in that place unexpectedly. Remember to use expanded noun phrases, similes and metaphors (figurative language), show the character's reactions and use more than one sense. Maybe you could include more than one character, to try out using dialogue to move the story on?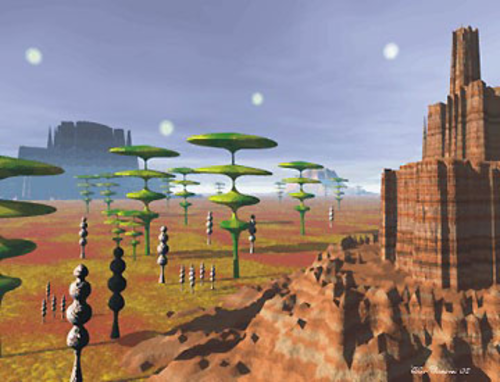 Monday 11.5.20
Hello everyone! I hope you had a lovely bank holiday weekend. We can't do everything that we'd like to at the moment, but we can enjoy the things we are able to do - whether that is a video call with friends, a walk in the sunshine or playing games with someone in your family .
Bug Club: Some people are doing an amazing job carefully answering comprehension questions to the best of their ability. Others are not answering the questions (make sure that you click on the bugs to get the questions) or not answering them as well as we know you are able to. Please try properly - you know that you won't learn if you don't try.
Maths: It's multiplication time! To support this, try Week 3 lesson 1 from White Rose - https://whiterosemaths.com/homelearning/year-5/
Friday 8.5.20
VE DAY ANNIVERSARY Today is the 75th anniversary of Victory in Europe - the end of the Second World War. But for the bravery and sacrifice of the men and women of that generation, this country's future would have very different. It is a day of celebration for us all.
On the History and Geography page, we've put together some VE day activities - a comprehension and a powerpoint so that you can learn what happened on VE day in 1945, some colouring pages, and a paper spitfire that you can cut out and make.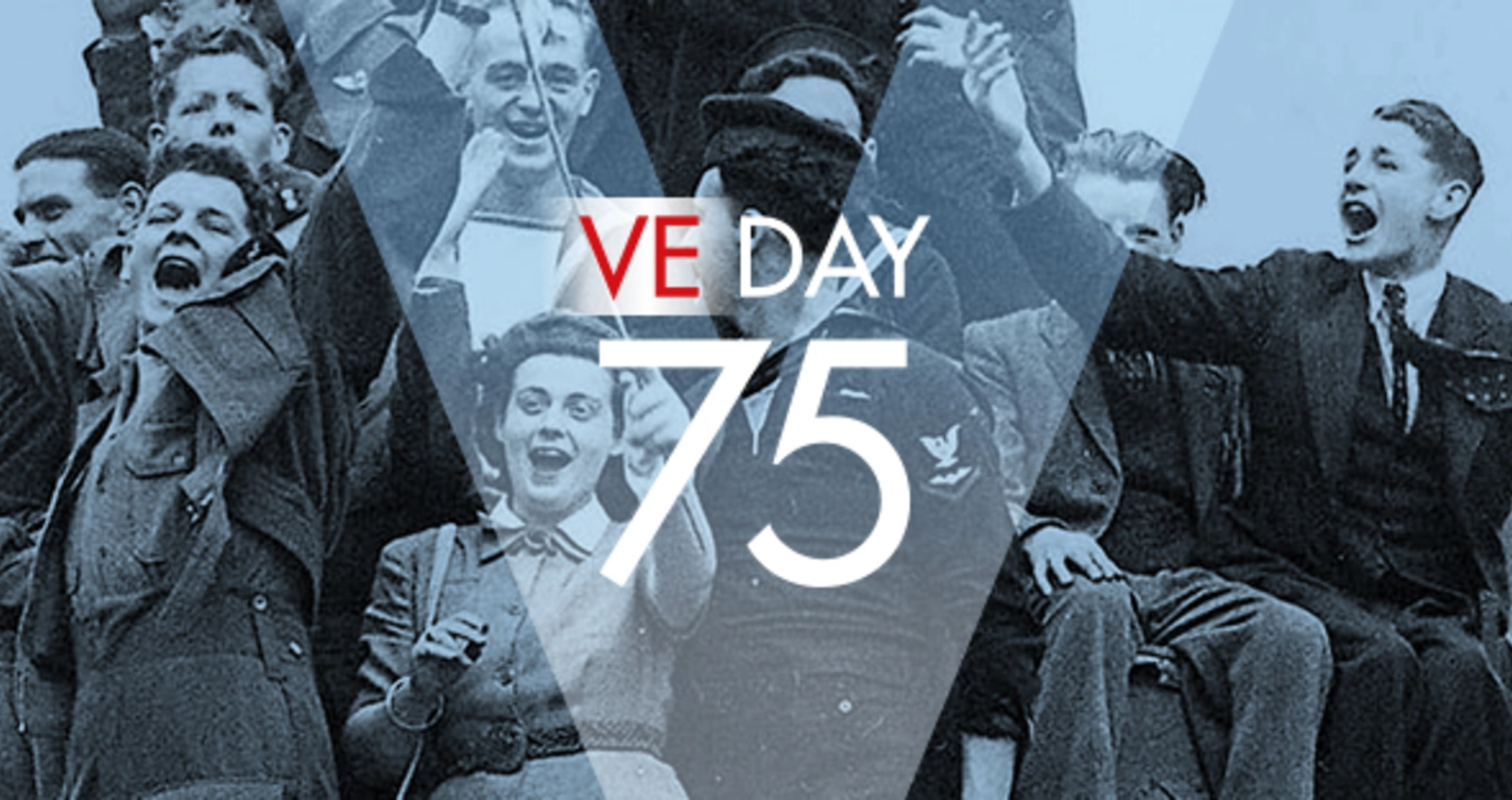 Thursday 7.5.20
Maths: Percentages lesson 2 https://whiterosemaths.com/homelearning/year-5/ Week 2 Lesson 4.
Science: It's a full moon at the moment, which means you can see a whole side of the moon at night. https://www.youtube.com/watch?v=wz01pTvuMa0 has a great explanation of the moon's phases. can you recreate her model? Or can you make a different model? Have a look at the Oreo mode!
Tuesday 5.5.20
Maths: Percentages lesson 2 https://whiterosemaths.com/homelearning/year-5/ Week 2 Lesson 4.
Please feel free to do the other lessons from White Rose. We've decided to only direct you to the most important ones, so that you aren't overwhelmed with work to do.
Music: Want to learn to beatbox? This, from Oak National Academy, looks like a lot of fun! https://www.thenational.academy/year-4/foundation/to-beatbox-using-rhythmic-patterns-year-4-wk2-5
Thursday 30.4.20
English: A writing challenge for you (to get you off these screens!): Look at these characters (or choose a character from a book you're reading) and write a letter to someone in your house or to your teacher to persuade them to invite them to your house for the weekend to make your time at home more fun.
Harry Potter Winnie The Pooh Stuart the Minion Spiderman
Art: Explore texture and create a great drawing, with help from Oak National Academy https://www.thenational.academy/year-5/foundation/how-can-we-use-visual-texture-to-add-interest-to-our-artwork-year-5-wk2-5
Wednesday 29.4.20
Maths: We've not looked yet at percentages, but they're very useful things. https://whiterosemaths.com/homelearning/year-5/ Week 2 Lesson 3.
PE: Most people are allowed to go out for a walk in the local area (you might not be able to if someone in your family is vulnerable). If you can, go out for a walk with a purpose. Can you find every letter of the alphabet on signs, car number plates, house names or other things you see? Or – can you take a photograph of something you've never noticed before?
Tuesday 28.4.20
Science: We've allocated some videos on Purple Mash to give you a chance to learn a little about space and our solar system.
English: BBC Bitesize are doing daily live lessons - available on https://www.bbc.co.uk/bitesize/tags/zhgppg8/year-5-and-p6-lessons/1 and also through the red button on your TV. Today's lesson is about apostrophes - IDEAL! Apostrophes are used for contractions (eg. Miss Akrill can't buy any eggs at the shop!) and for possession (eg. Mr Shah's hair is getting long!)
Monday 27.4.20
Maths: Today's recommended lesson is (Week 2, lesson 1) on White Rose: https://whiterosemaths.com/homelearning/year-5
It's all about rounding decimals. We've set linked work on MyMaths too, as well as some work on introducing percentages and on adding decimals, which would be our other learning for the week.
Art: Peter Thorpe is an abstract artist who creates pictures inspired by space. Check out the powerpoint in the art activities section and then create your own pictures. Chalks or pastels would be ideal, but coloured pencils, paint or felt tips would create a great picture too.
Friday 24.4.20
Keep active with The Daily Mile at Home!
There are a range of activities released each week on the official Daily Mile website. For example, wear blue on Thursday to remember and celebrate the NHS.
You can send photos of you doing The Daily Mile wearing blue (if you can) and we can put them on our school Twitter page! Use the hasgtag #DailyMileAtHome.
Here's the link to upcoming challenges:
https://thedailymile.co.uk/wp-content/uploads/2020/04/Week4_PrintOut.pdf
How to do The Daily Mile at Home? To find out more, click link below:
https://thedailymile.co.uk/wp-content/uploads/2020/04/The-Daily-Mile-at-Home-How-To-V5.pdf
Wednesday 22.4.20
Keep up the great work Pine and Sycamore!
Maths: Decimal place value
If you can, take the next lesson (Week 1, lesson 4) on White Rose: https://whiterosemaths.com/homelearning/year-5
If not, practise adding and subtracting decimals eg. 0.25 + 0.1 or 0.63 - 0.02
French: There are lots of great links in the new French Activities link on the right (bottom on a phone). Enjoy!
Tuesday 21.4.20
Well done to all of those children who had a productive day yesterday, and thank you to those who got in touch to let us know how you're getting on.
English (writing): We've added a new pack to the writing activities called THE GAME. It's all about creative writing and links to the film Jumanji. This will take several days to work through, so do take your time. You could print the booklet, or you could write on paper. Send through your final stories so that we can help by marking them.
Printing: If you have no printer at home and this is causing problems, please let us know (earlsmeadyear5@gmail.com) as we can print some things and get them to you.
Monday 20.4.20
Welcome to the summer term! We wish we could all be back in school but we are glad that you're safe at home.
Maths: Our first maths topic for the summer term is decimals.
There is a teaching video here. Go to Week 1, lesson 3: https://whiterosemaths.com/homelearning/year-5
Then complete the worksheet (Q1-6 for green chilli, whole sheet for yellow and red chilli). If you have no printer, complete what you can. All of the worksheets, and an extension Classroom Secrets worksheet are in "Maths Resources" on the right.
The answers are there too, so check your work and ask us if you have any questions.
Science: We're learning about space this term. BBC Bitesize have some good learner guides - use as many of them as you like: https://www.bbc.co.uk/bitesize/topics/zdrrd2p
EASTER HOLIDAY UPDATE
From 6th April to 18th April is the Easter Holidays. We want you to take some time to relax and enjoy your holidays, even though we can't go away and need to stay at home. Feel free to continue with work from the school website, purple mash, bug club, abacus and MyMaths in this time if you'd like or if you haven't managed to do much of it yet. But make sure that you take time to do other things you enjoy - even video games (though not all day!), and make sure that you help out your family too - cooking, cleaning, tidying, or even helping family members who are working from home.
We will be adding new work to the website and to MyMaths after the holidays. Please do continue to get in touch if you need any support or if you don't know what to do next, and please send over any work you would like us to see or help you with. earlsmeadyear5@gmail.com
2.4.20 - Newsround and Book Reviews
Here's a reminder that you can keep up to date with the news in way that is helpful, informative yet positive. Visit the CBCC newsround website for updates regularly as they have changed the times they broadcast news during this time. They are now at: 9:15am, 12:10pm and 4.00pm.
Click here for more information and to visit the website:
https://www.bbc.co.uk/newsround/news/watch_newsround
P.S. Please send in any book reviews. We'd love to hear what books you have read or are reading and what you think about them! Send them to earlsmeadyear5@gmail.com. Any questions please ask. Thank you.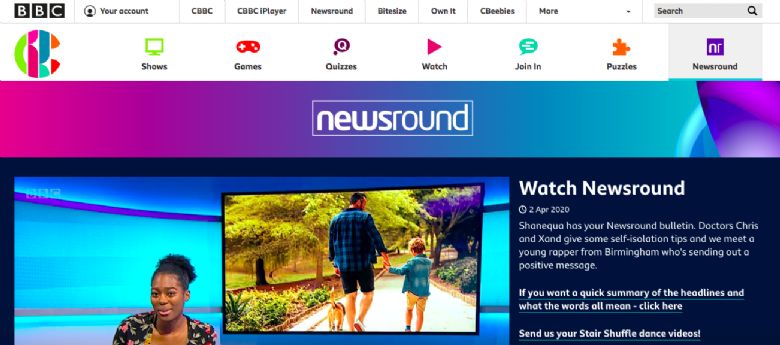 1.4.20 - History
Look at the history tab for some ideas linked to our Ancient Greek Ideas Today topic. Send us pictures of your work at earlsmeadyear5@gmail.com. Also, log on to purple mash and complete the task comparing Ancient and Modern Olympics. Take your time on this please.
31.3.20 - MyMaths
It's good to see more of you starting to log on to MyMaths. If you don't have your password yet, please email earlsmeadyear5@gmail.com. Please have a go at the "lesson" before the "homework," because the lesson teaches you how to do things. Most things at the moment are revision, but more new tasks have now been added.
We are leaving comments on your completed homeworks. Go to scores and click on your completed work to see what feedback your teacher has given (you can imagine that it's written in green pen if you like!). Sometimes, we've added links to videos and other ways to learn about or practise a topic, when we can see you need more practise. Respond to these, just like you would respond to your blue pen comments :)
30.3.20 - Reading
Please click on the "Reading Activities" tab on the right for ideas about reading, including two places where you can access The Nowhere Emporium from home. Remember that you have lots of allocated books on Bug Club too.
Send book reviews to earlsmeadyear5@gmail.com
27.3.20 - Writing
It's a good time to keep a daily journal. You can use it to record what you do, but also how you feel and what you're thinking. Remember to use your best writing, and maybe even show off some parentheses!
26.3.20 - MyMaths and Year 5 email address
We hope that everyone staying safe at home. We know that there are lots of websites out there to help you with your learning. We've signed up to another one - MyMaths. Everyone has a username and password, so please email earlsmeadyear5@gmail.com to find out these so you can get started. We've allocated you revision tasks so far, but if you're stuck, you can also email in to ask for help.
25.3.20 - Exercise
It's important for everyone's health to still be getting good exercise. You are allowed out once a day for a walk, run or cycle, though please do so responsibly. Even in your living room or bedroom, there are loads of ways to stay active.
- Joe Wicks is streaming a live exercise class at 9am every day, but you can watch and join in any time. https://www.youtube.com/channel/UCAxW1XT0iEJo0TYlRfn6rYQ
- For a more relaxed approach, there's Cosmic Kids Yoga https://www.youtube.com/user/CosmicKidsYoga
- You can also set up your own circuit training in your house - skipping, push ups, weightlifting, sit ups, running on the spot, step ups...
And there are more ideas in the PE activities tab too.
20.3.20
Today is the International Day of Happiness. In school, we've taken this time to create a wall of happiness, recording all of the things we can be happy about, even at this difficult time. Children suggested that they were happy to have family who care for them, teachers who help them, nurses and doctors who look after everyone when they are sick, and a safe place to live.
You can join in at home too. Record things that you are happy about on little pieces of paper or post it notes, and create a poster called "wall of gratitude" (gratitude means thankfulness).
.
AUTUMN 2 RE: South Harrow Methodist Church
In December, we took a class walk to South Harrow Methodist Church to explore the church and learn more about the Christmas story.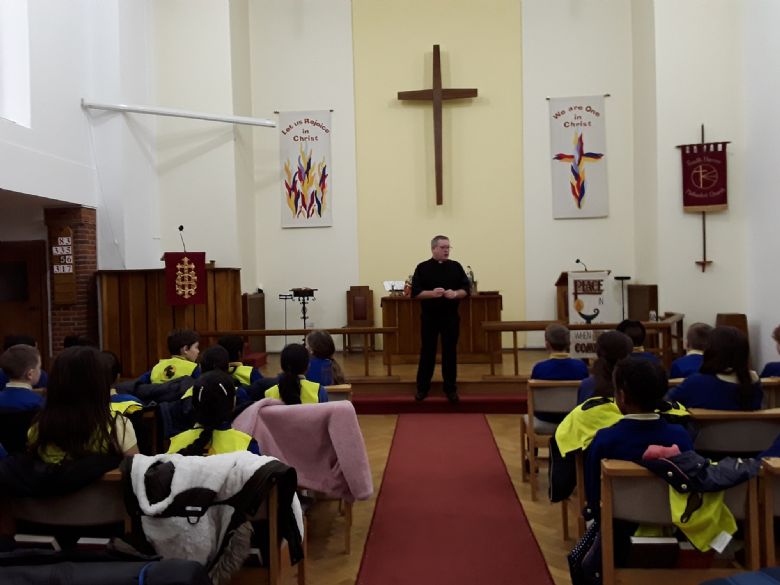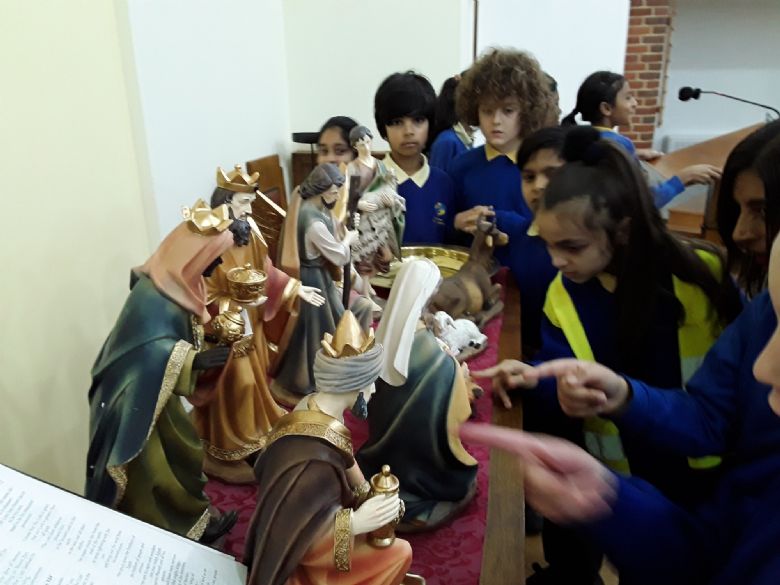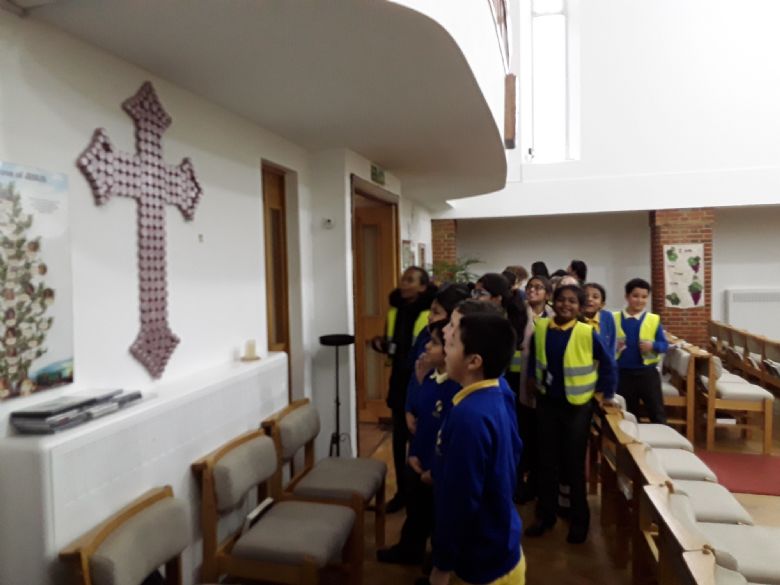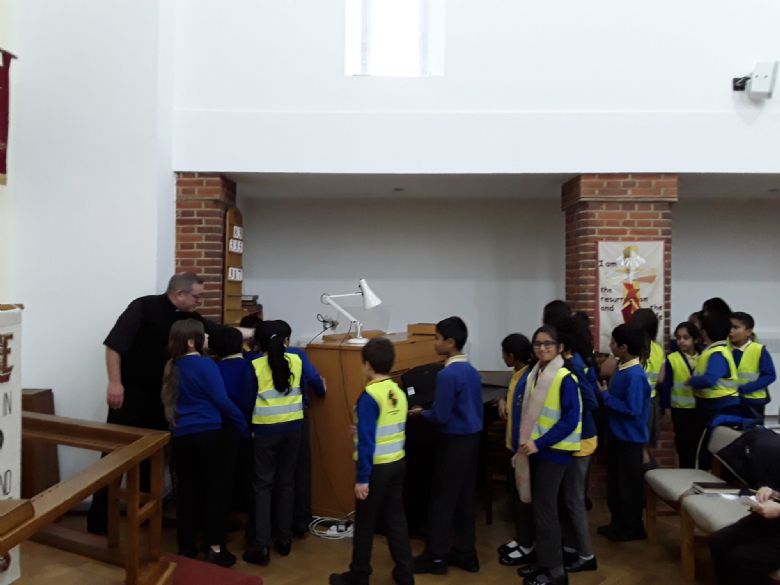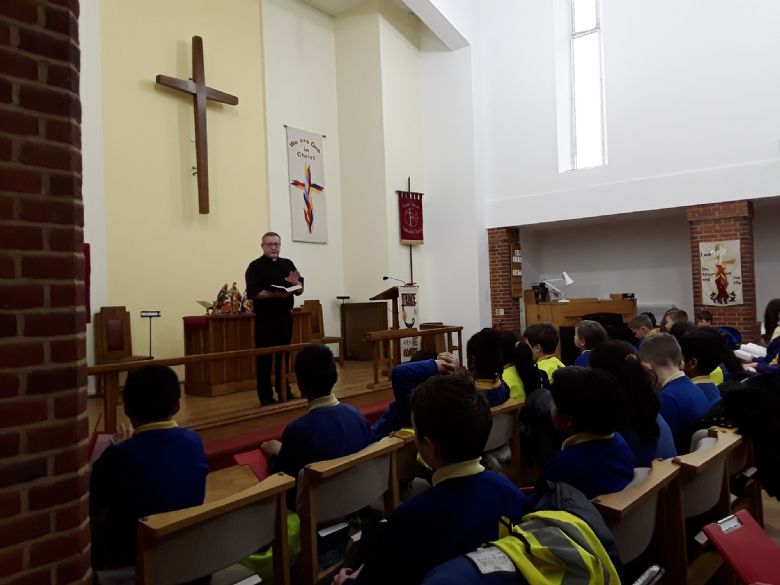 AUTUMN 2 DT: Salsa
When we were learning about South America, Year 5 took the opportunity to investigate foods from South America. Our salsas were packed with vegetables and strong flavours. Each child chose their ingredients, decided on the quantities, chopped the vegetables and then decided whether to blend their salsa or keep it chunky. The final evaluations were very positive!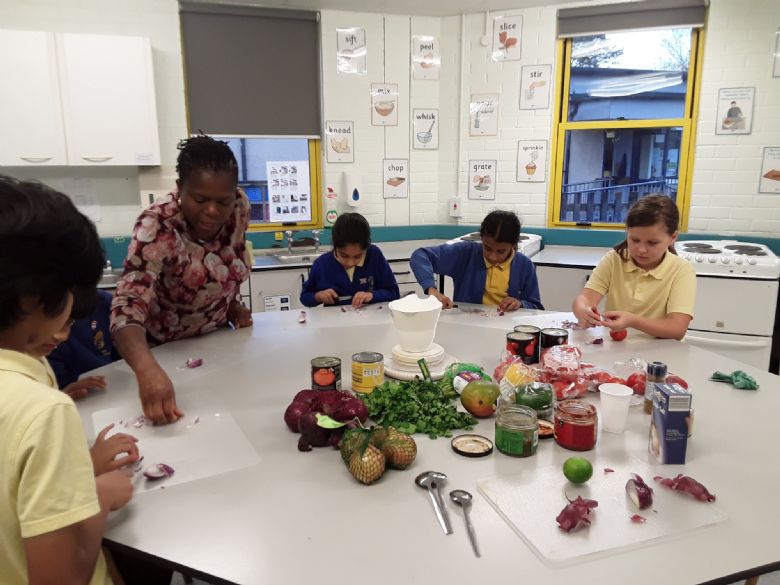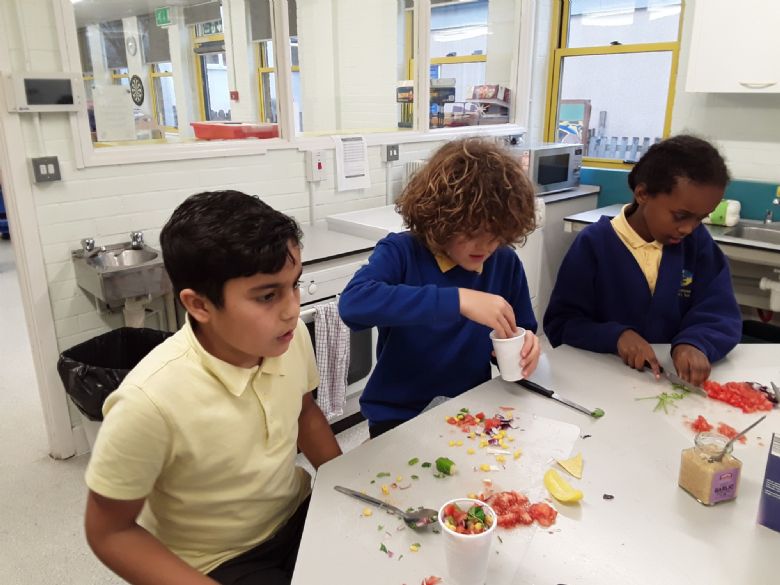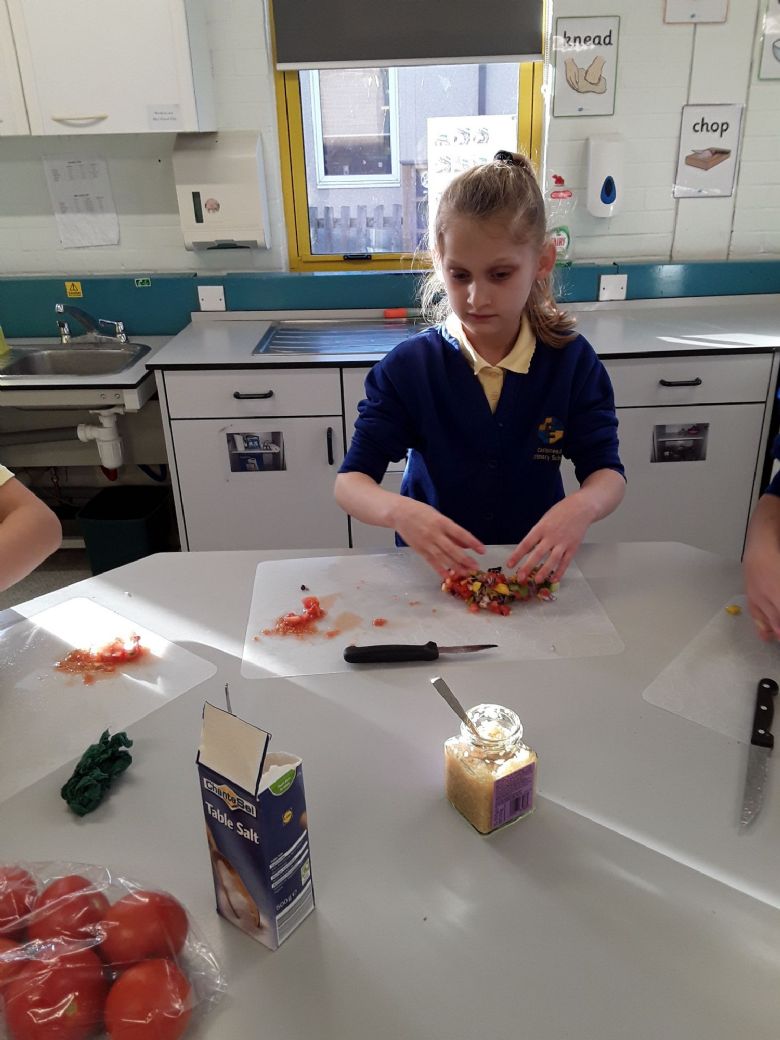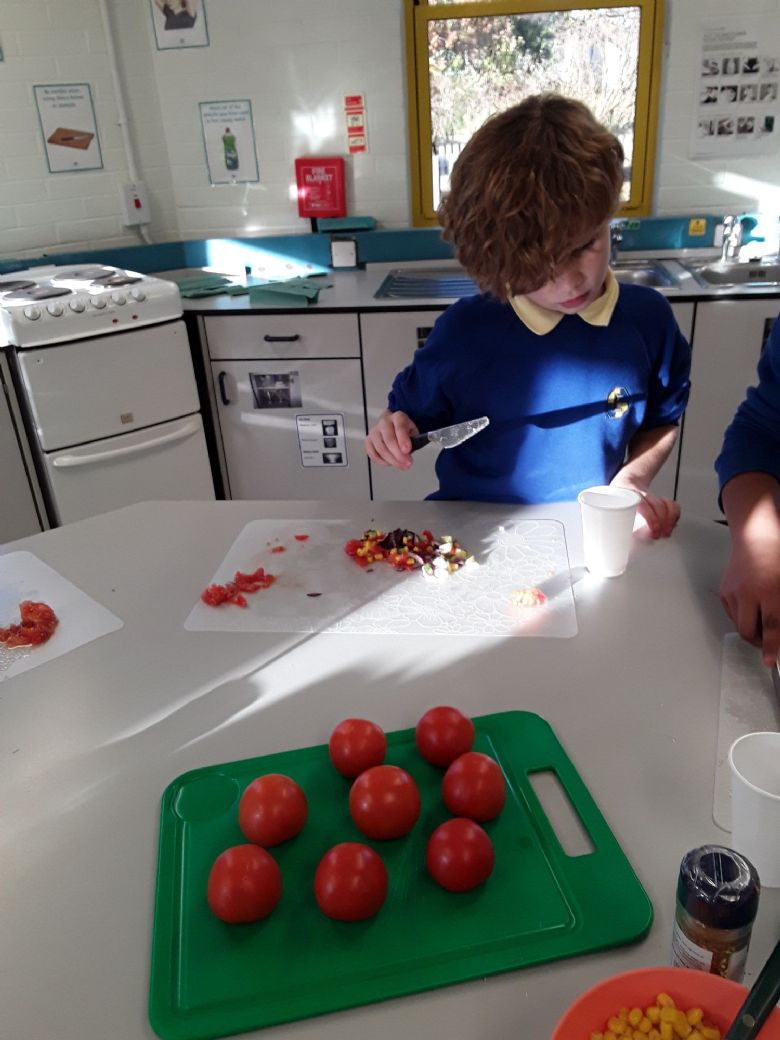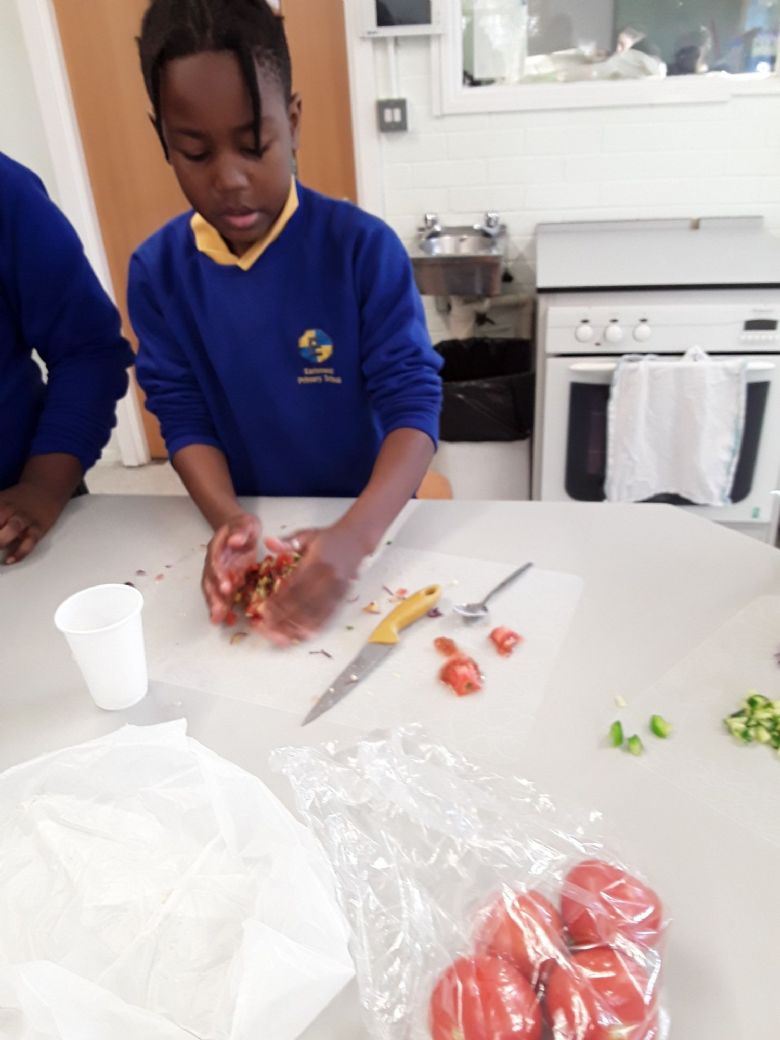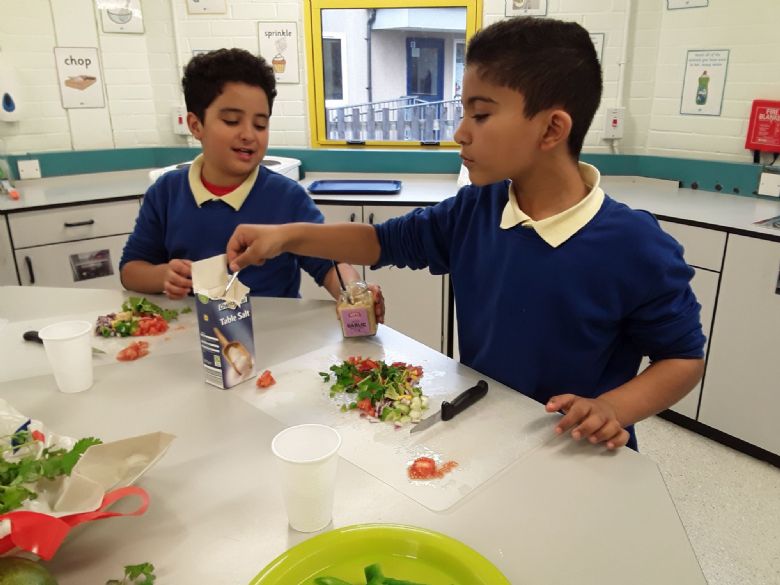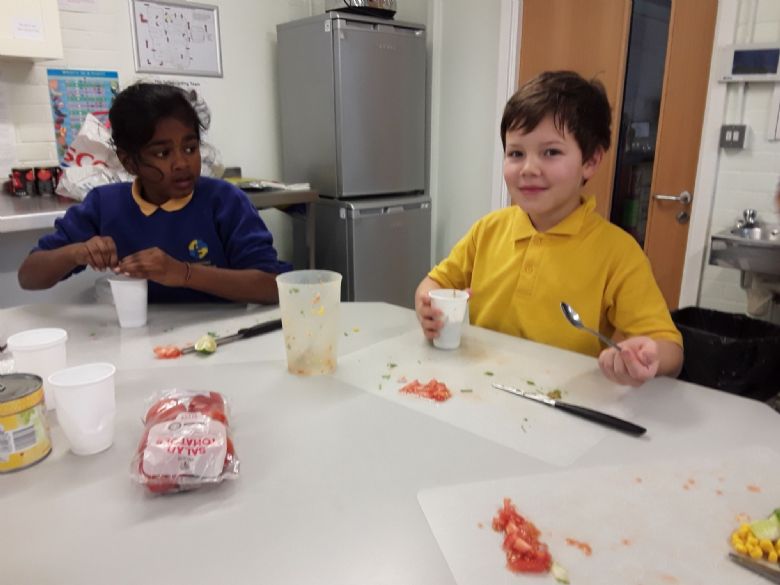 SPRING SCIENCE: Materials and their Properties
Year 5 have been working on planning experiments, including controlling variables where needed. They carried out this experiment to discover which dissolves more easily - salt or sugar. As you can see, it involved careful measuring using syringes, recording results and observing closely.